Vacio 17-Inch Stone Bathroom Sink
Translation missing: en.products.product.price.regular_price
$489
Translation missing: en.products.product.price.sale_price
$489
Translation missing: en.products.product.price.regular_price
Translation missing: en.products.product.price.unit_price
Translation missing: en.accessibility.unit_price_separator
DIMENSIONS
L 426 mm W 426 mm H 152 mm
WEIGHT
8.8 kg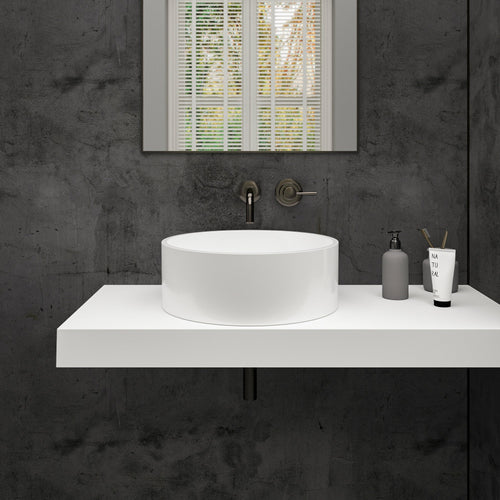 ×
FOR PRE-ORDERS
This product is currently out of stock, but it can be pre-ordered. To pre-order, please either call or email us and we will be able to advise you of an estimated delivery date and take your pre-order if you would like to proceed.
Strong & Resilient Mineral Composite
Effortless Maintenance & Longevity
Crafted from our robust, chip-resistant mineral composite stone material made from dolomite stone and resin, the Vacio 17-inch stone vessel sink is an ideal choice that will not flex or creak over time.
Timeless Style
Minimalistic Round Design
Enhance your bathrooms with the sleek and minimalist shape of the modern Vacio 17-inch white round vessel sink. Its elegantly slim, straight walls offer the perfect depth for a comfortable handwashing experience. In pristine white with a polished finish, this freestanding basin adds a touch of timeless opulence that will effortlessly complement any existing bathroom colors and styles. Ergonomic European Design
Ergonomic European Design
Crafted for Functionality
Featuring an excellent European design and expert craftsmanship, the Vacio 17-inch stone basin bathroom offers a polished white color, a comfortable and practical design, and a luxurious size.
100% Green
Environmentally Friendly
Our Vacio 17-inch stone resin basin is manufactured using a complex chemical process that emits no greenhouse gases and requires minimal external energy. Our Vacio 17-inch stone basin for the bathroom and all of our other bathroom sinks are produced using 100% renewable energy.
Lasting Warmth
Naturally Warm to the Touch
Experience the delightful heat retention of our Vacio 17-inch round bathroom sink, which offers a pleasantly warm surface that keeps water warmer for longer.
Lifetime Guarantee*
Guaranteed Quality Craftsmanship
We provide a lifetime guarantee on every mineral composite product we offer, including our Vacio 17-inch luxury bathroom sink. This basin offers you true peace of mind and lasting satisfaction.
Hansel Stone: Luxury Stone Vessel Sinks & Bathware in the USA
Hansel Stone allows you to transform your home with style and sophistication through our exquisite range of luxury bathware. Create the bathroom of your dreams with our Vacio 17-inch designer bathroom sink or other stone resin basins, along with our matching range of high-end freestanding bathtubs, stone shower pans and floating countertops.
You can create a modern floating stone sink effect by pairing our above-counter Vacio 17-inch stone sink bowl with our mineral composite countertops, opening up your space and ensuring convenient floor access for cleaning.
Read More
Enhance your bathrooms with our high-end mineral composite Vacio 17-inch stone wash basin and complementing bathware. Order from Hansel Stone's online store today.
Hansel Stone Bathroom Sink FAQs
How do I find the right size vessel sink?
Finding the right stone bathroom sinks for your bathrooms comes down to the size of your countertop, the location of the faucet, the height of the spout, and personal preference, such as how deep you want the sink to be.
Measure your countertop and compare the measurements with that of our Vacio vessel sink to see if it will be a good fit. You can also buy a matching mineral composite stone countertop for your new sink from our collection.
Is a vessel sink easy to install?
Our stone resin vessel sinks offer a quick and hassle-free installation. The Vacio 17-inch stone resin bathroom sink can be easily installed with minimal hardware, and the installation process typically takes under an hour.
Unsure if our 17-inch floating stone sink will precisely fit on your countertop?
At Hansel Stone, we provide a bespoke design service, allowing you to order a custom-made vessel sink with bespoke measurements for depth, length, and height. From the sink's shape to its dimensions, our team can create a freestanding basin that fits perfectly on your bathroom's vanity.
Enquire about our bespoke stone basins online.
Why Mineral Composite?
STRONG
Our Mineral Composite is solid right the way through, resulting in no flexing and creaking, unlike traditional acrylic.
EASY TO CLEAN
The glossy non-porous surface allows our baths to be wiped clean without the need for harsh chemicals.
DURABLE
Our Mineral composite has a white, glossy non-porous surface coating. Allowing for stain resistance far surpassing that of acrylic, while also being resistant to chipping.
WARMTH
The use of dolomite stone in the Mineral Composite allows for the right balance of thermal conductivity and insulation. Giving a material that retains heat from the air and water around it.
ANTI-BACTERIAL
Our Mineral Composite features anti-bacterial properties, resisting the growth of harmful bacteria, being able to be easily cleaned and using conventional household cleaning agents.
SOUND INSULATION
Mineral Composite offers superior acoustic absorption compared to acrylic. Attributed to the density and thickness of the material, allowing for a reduction in the sound of water striking the surface.
FAQs
Hansel Stone products are proudly made in Europe. Our manufacturing facilities adhere to the highest standards of craftsmanship and quality to ensure that each product meets our exacting specifications.
Hansel Stone products are made from a natural compound of dolomite stone and a premium resin. This unique composition guarantees the best quality and durability, setting our products apart from others on the market.
Some resin products on the market may use artificial fillers in their manufacturing process, compromising the durability and quality, these products are susceptible to thermal shock/cracking as well as yellowing over time. In contrast, Hansel Stone uses only the highest quality materials, ensuring long-lasting performance and offering a lifetime guarantee.
Bathtubs: Hansel Stone bathtubs are shipped via LTL (Less ThanTruckload) freight. They will be delivered to the curb or nearest accessible point to your location. Please note that you may require additional assistance to move the bathtub to its final location.

Shower Pans and Basins: Hansel Stone shower pans and washbasins are typically shipped as standard parcels. They will be delivered to your specified address via a standard parcel delivery service.
At Hansel Stone, we take great care to ensure the quality of our products before shipment. However, we recommend inspecting the item upon delivery. If any damage is found, please report it to our team as soon as possible. We will work with you to address the issue and find a satisfactory resolution.
By accepting delivery of the item, you agree that it was received in good condition and free from damage. We encourage you to inspect the product upon receipt and report any damages immediately. Any damages identified after acceptance of delivery may not be covered under our warranty.
Hansel Stone provides a warranty that covers manufacturing defects. However, damages caused after delivery, such as mishandling or improper installation, are not covered under our warranty. It is important to inspect the item upon receipt and report any damages promptly to ensure appropriate resolution.
At Hansel Stone, we strive to ensure customer satisfaction. If you wish to return a product, please carefully review our return policy and reach out to our customer service team to initiate a return request and obtain further instructions. We are here to assist you and address any concerns you may have.

Note: Returns are valid up to 14 days after delivery.
To initiate a return, please contact our customer service team. They will guide you through the process and provide you with the necessary instructions and return authorization. Remember to review our return policy for more information on eligibility and associated fees.
Yes, we offer free storage for your item if you require delivery at a later date. Simply inform our customer service team in advance of your preferred delivery date and duration of storage. We will coordinate with you to ensure secure storage until the agreed-upon delivery date.
Hansel Stone products come with a lifetime warranty. Please refer to our Terms & Conditions for full warranty details. For any warranty-related questions or assistance, please contact our customer service team.

Note: Lifetime warranty coverage is subject to terms and conditions.
For detailed installation instructions, we provide product-specific installation guides. These guides contain step-by-step instructions to help you with the installation process. To access the installation guide for a specific product, please visit the product page on our website. Look for the "Installation Guide" section, where you will find a downloadable PDF guide.
Shop online with Hansel Stone to explore the luxurious richness and beauty of our resin stone vessel sinks. Order the Vacio 17-inch stone bathroom sink online from Hansel Stone to complete your home with panache.